MMS Teacher Named Edmentum Educator of the Year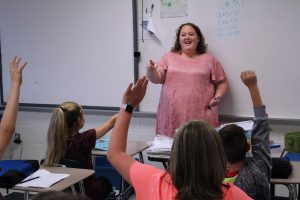 Edmentum, a global education leader and a pioneer in online teaching and learning solutions, has announced the winners of its third annual Educator of the Year Award.
The winner, Kristen Espina, is a Math teacher at Moundsville Middle School. She was recognized as an innovative technologist and committed educator by her school's Math Department Head, Amy Ritz, and she was instrumental in the success of her school's Edmentum Exact Path implementation.
The Edmentum Educator of the Year Award is held every spring, seeking to recognize Edmentum educators who exhibit excellence, go above and beyond for their students, and champion technology in the classroom. In addition to Espina Edmentum awarded three runners-up, recognized as Inspiring Educators. This year's winners are Stephanie Kearney, a middle school science teacher at Penn Alexander School in Philadelphia, Pennsylvania; Jerry Hodge, a Quest Academy teacher at Stafford High School in Stafford, Texas; and Kami Ferguson, a 2nd grade teacher at Demorest Elementary in Demorest, Georgia.
"We are committed to putting educators like Kristen, Stephanie, Jerry and Kami first in everything that we do at Edmentum," said Marty Thomas, VP of Professional Services at Edmentum. "It is an honor to be a part of their inspiring stories and experiences, and we are extremely proud to recognize them for the great work they do inspiring and engaging students every day."
This year, educators were asked to detail examples of how they meet the following criteria: technology integration, Edmentum implementation, innovation, student engagement, and professional development. Espina's story is only one of many that Edmentum is excited to feature and share with other educators. A total of 643 nominations were received from educators all over the country.
Espina remarked how she is excited about winning the Edmentum Educator of the Year Award: "I'm going to get to share my ideas with other people, and they're going to hear about what we do to make the program work for [our students] and maybe [other teachers can] make the program [work] better for their students."