MMS Goes Back to School with Junie B. Jones The Musical Jr.
Moundsville Middle School students will present Junie B. Jones The Musical Jr., a 60 minute student version of the witty and charming show featuring a book and lyrics by Marcy Heisler and music by Zina Goldrich, which was adapted from the Junie B. Jones series of best-selling books by Barbara Park. The musical follows the adventures of a precocious girl named Junie B., nervously facing the beginning of first grade.
There is a lot of humor in the strong and sassy way in which Junie B. addresses intimidating things like making new friends, finding her role and taking risks. Ultimately she leaves each of us with an important reminder to "never take for granted how special you are."
The production will be held on Wednesday, March 21 and Thursday, March 22, 2018 at 7:00 PM in the Sherrard Middle School Auditorium, 1000 Fairmont Pike, Wheeling, WV.  Tickets are $5.00 and can be purchased in the main office at Moundsville Middle School or at the door.
Junie B. Jones The Musical JR. is presented through special arrangement with and all authorized materials are supplied by Music Theatre International 421 West 54th Street, New York, NY, (212) 541-4684, mtishows.com. The Junie B. Jones The Musical JR. adaptation was created by iTheatrics under the supervision of Timothy Allen McDonald.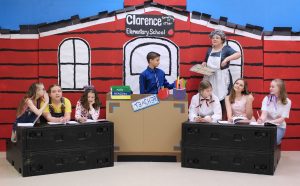 It's Junie B.'s first day of first grade and a lot of things have changed. Junie's kindergarten best friend doesn't want to be her best pal anymore. Junie has trouble reading the blackboard and her teacher thinks she may need glasses. Throw in a friendly cafeteria lady, a kickball tournament and a Top-Secret Personal Beeswax Journal, and first grade has never been more exciting! Pictured from left: Lynsey Yoho, Khloe Trussell, Marra Tharp, Jackson Thomas, Lakyn Phillips, Charli Garrison, Lauren Riggenbach and Lauren Brannan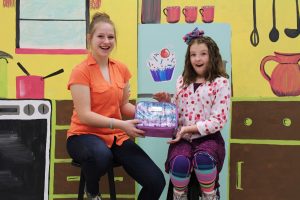 Charismatic and spirited, Junie B. Jones documents her experiences navigating the shifting social landscape of first grade through "top-secret personal beeswax" entries in her diary. While basking in the joy of having a brand new lunch box, Junie B. takes advice from her mother. Pictured from left: Amanda Rine and Marra Tharp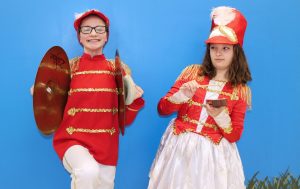 Junie B. practices for the upcoming first grade kickball tournament by kicking her mother's watering can and badly stubs her toe.  Since she and her injury-prone classmate Sheldon can't play, the teacher, Mr. Scary suggests that they perform a halftime show.  Reluctantly, Junie. B. joins Sheldon for an unforgettable display of talent! Pictured from left: Lauren Rice and Marra Tharp